Wiki Targeted (Entertainment)
Play Sound
A 1995 Chevrolet Caprice 9C1 appeared very briefly in both The Fast and the Furious and 2 Fast 2 Furious.
History
The Fast and the Furious
Chevrolet Carprices were first shown in the beginning along with a Ford Crown Victoria where they chase down street racers after a race that was recently won by Dominic Toretto. After Dominic Toretto parks his Mazda RX-7 in a parking garage and starts to walk, a police officer in a Ford Crown Victoria spots him as he passes him. The officer immediately turns the car around and calls out to Dominic, telling him to not move, but the car changes from a Crown Victoria to a Chevy Caprice when the cop turns the car around as an error.
2 Fast 2 Furious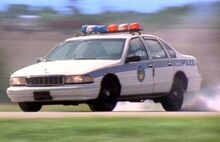 Dunn uses one unmarked Chevrolet Caprice to pursue Brian O'Conner in his 1999 Nissan Skyline GT-R R34 after recently winning a street race. Brian is able to evade him just as Dunn crashes into a parked car leaving him angered. Later the Miami police officers who chase Brian O'Conner and Roman Pearce near the end of the movie use both Ford Crown Victoria's as well as Chevrolet Caprices, although all the interior shots of the police vehicles are taken from Crown Victoria's. During the chase sequence, Brian is able to throw an ESD into one of the cop cars, causing a massive pileup over I-95. Several Chevrolet Caprices were also destroyed by Dodge Rams after Brian led the police to a warehouse so they can orchestrate a scramble of street racers to disorient the cops while they escaped detection in the Dodge Challenger and the Camaro they won earlier.