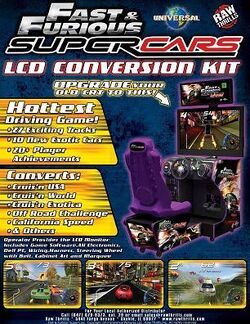 Fast and Furious: Super Cars is an arcade game developed and published by Raw Thrills. Super Cars is very much like the last two arcade games, The Fast and the Furious (2004) and The Fast and the Furious: DRIFT, and they had the same 18 courses from the last two arcade games, plus they add the nine courses from The Fast and the Furious: Super Bikes.
Easy Tracks:
Mojave- A Race through the Mojave Desert
Times Square- A Race from the Brooklyn Bridge to Times Square
Hawaii- A Race in Hawaii
Chinatown- A Race through Chinatown, San Francisco
Shinjuku- A Race in Shinjuku, a part of Tokyo, Japan
Sturgis- A Race to Mount Rushmore
Baja- A Race through the Baja Desert
Florida- A Race through Florida
Switzerland- A Race in Switzerland
Medium Tracks:
Monaco- A Race through Monaco
New England- A Race through the hills of New England
Malibu- A Race in Malibu, CA
Shibuya- A Race to Narita International Airport
Kyoto- A Race through Kyoto, Japan
Chicago- A Race of Chicago, IL to Wrigley Field
Sado- A Race through Sado, Japan
LA Ghetto- A Race of a Ghetto part of Los Angeles, CA
Shanghai- A Race in Shanghai, China
Hard Tracks:
Central Park- A Race from Central Park to Fort Knox
Detroit- A Race through Detroit, MI
Takayama- A Race through Takayama, Japan
Nagano- A Race through Nagano, Japan
San Francisco- A Race to the Golden Gate Bridge
Hollywood- A Race through Hollywood
S.F Tour- A Race to the piers of San Francisco Bay
Chinatown EX- Harder Chinatown
Mulholland Dr- A Race Down Mulholland Dr
Featured cars:
Gallery
Community content is available under
CC-BY-SA
unless otherwise noted.