House of the Dragon Trailer - The Loop
Play Sound
Jack Toretto was the father of Dominic, Jakob, and Mia. During the last stock car race of the season in 1989, he was run off the track by another racer, Kenny Linder when the latter's car hit his bumper.
Jack was killed instantly when his stock car crashed into the wall at 120 miles per hour and burst into flames. He had died before his car exploded. His death would have a huge impact on the Toretto Family, especially with Dom and Jakob.
Biography
Early Life
Jack Toretto was a racer who sired two sons and a daughter with an unknown woman. He was a caring man who raised a religious family and hosted a barbecue every Sunday after church for anybody who lived in the neighborhood, except for those who did not attend church. He worked in a garage every day to provide for his family and spent his nights helping his daughter with her homework, even reading ahead for hours to continue helping her the next day.

To be added
Dom mentioning his father's death to Brian would later be featured in the film as a flashback sequence.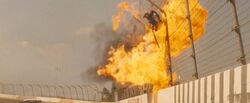 In 1989, during the last stock car race of the season, the Torettos are on the track. Jack is one of the racers and comes off for a pit stop. Jack's sons Dominic and Jakob are a part of his Pit Crew. While Jakob works under the hood, Dom argues with the Pit Crew of rival racer Kenny Linder as he is being a dirty racer. As Jack is about to get back into the race he tells Dom to let it go, saying it's not about being the stronger man but about being the bigger man.
As Jack gets back on the track to resume the race, Kenny resumes as well, as they near the next lap Kenny's car clips Jack's bumper and causes him to hit a wall at 120 Mph, his car then bursting into flames in the process and killing him. Dom sees this and tries to run on to the track to save his dad but is held back by Buddy, another member of Jack's pit crew. Dom and Jakob both watch as their father dies in front of them.
It is revealed by Jakob that Jack intended to throw the race to help his family get out of debt and instructed Jakob to tamper with his car, however upon impact with Linder it caused his car to explode and kill him.
Personality
To be added
Relationships