Magdalene "Queenie" Shaw is the mother of Deckard, Owen, and Hattie. She appeared in The Fate of the Furious, Hobbs & Shaw, Fast & Furious 9, and the upcoming Fast X.
Biography
Magdalene is visited by Dominic Toretto in 2017, who asks her to assist in saving his son from Cipher by employing her two sons, Deckard and Owen Shaw. When Dom shoots Deckard, he is put into an ambulance by Tego Leo and Rico Santos who drive him away from the scene. He is revived by Magdalene and it is revealed that he was aware of the plan for Dom to supposedly kill him. Magdalene gives him a watch that can control Cipher's plane and Owen's location after she guilt trips him into using Owen.[1]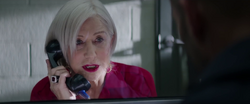 At some point within the next two years, Magdalene was incarcerated, although she attempted to break out of prison a few times. In 2019, she is visited by her eldest child, Deckard Shaw, who informs her that her skills must have waned if she cannot successfully break out of such a facility, only for her to notify her son that she is comfortable within prison, considering it a form of retirement, although quickly adding that her liberation would be much easier if Deckard brought her a birthday cake with a nail file hidden inside of it. She then mentions how she wishes Deckard would visit her one day with his sister Hattie, as Hattie had cut off her family members after they turned to a life of crime.
In the aftermath of the Battle of Samoa, in which Hattie and Deckard rekindle their familial bond, they pay Magdalene a visit in prison, where Deckard delivers Magdalene with a cake. Realizing that there is a nail file hidden within, she asks if her two children would assist in her escape, prompting Hattie to deliver her usual pre-combat line.[2]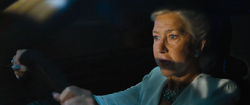 Queenie was eventually released from prison and went back to a life of crime. Whilst heisting an expensive necklace from a store on New Bond Street, she is met by Dom who was waiting for her. He asks her for information regarding his brother, Jakob, and she steals a 2018 Noble M600, offering Dom 15% if he drives. Dom declines the opportunity so Queenie takes the wheel and she and Dom and evade the police before she drops off Dom at a party at Hatfield House which is being hosted by Otto and Jakob. She warns Dom of the dangers of turning his love of family into anger and resentment before driving off.
TO BE ADDED
Personality
Magdalene, despite her formidable reputation, is a woman who puts family above all else and seeks to put her family back together. She has encouraged Deckard on two separate occasions to reconcile with his younger siblings and angrily slapped Deckard when he claimed Owen was a 'lost cause.' She is also not above manipulating Deckard into doing what she wants such as faking tears to get him to help Owen.
She is also quite forgiving. Despite his history with her sons, Magdalene did forgive Dom because not only did he help her find Owen thus reconciling her two sons, but understood they fought for the same reasons: Family. She even said Dom was her favorite American.
Abilities
Master Thief: To be added
Expert Driver: To be added
Expert Tactician: To be added
Relationships
Gallery
Vehicles Driven
Trivia
Helen Mirren stated that she chose the name Queenie as it was the name of her aunt.
References