Create a Page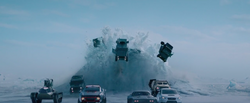 The Submarine Chase was a successful mission undertaken by Dominic Toretto's Crew in Vladovin, Russia to stop Cipher's attempt at hijacking a Russian submarine and launching multiple nuclear missiles.
After staking out the Military Base, Letty Ortiz spotted Dominic in his 1968 Dodge Charger R/T with the previously stolen EMP attached to it. Under Cipher's direction, he activated the EMP, shutting down their defences and the Submarine. Cipher then rebooted the submarine, taking control for her own use. It was determined by Tej Parker and Ramsey that they would split off into teams, with Tej, Roman Pearce and Little Nobody boarding the submarine and pulling the trigger chips to stop the nuclear missiles, and Luke Hobbs, Letty and Ramsey infiltrating the control room and counteract Cipher's hacks.

As Ramsey tried to stop Cipher from hacking the Submarine, Hobbs and Letty fought off multiple enemies. After Cipher blocks Ramsey from the system, it is up to Tej to pull the chips. Cipher separates Tej, and Little Nobody and Roman by putting the submarine into attack mode. After Cipher sets a countdown, Roman and Little Nobody are able to pull the trigger chips within seconds of the Nuclear Missile being set off.

With the missiles being shut down, the gang then had to escape to a sea lock, with Letty in her Local Motors Rally Fighter, Tej in his Ripsaw Tank, Roman in his Lamborghini Murciélago LP640, Little Nobody in his Subaru WRX, and Hobbs in his modified Dodge Ram, approximately 10 miles from the base so Cipher couldn't allow the submarine to escape into open waters. Additionally, the separatists were also chasing after them after they infiltrated the base.

When Dom receives word that Deckard has saved his son, he kills Connor Rhodes and escapes to his family where he uses a turbine engine on his car to reroute a heat seeking missile on him, and he is able to use this to blow up the submarine and end Cipher's attack. Knowing she is defeated, Cipher erases the systems on her plane and readies a parachute. After being confronted by Deckard who reveals that Dom's necklace was embedded with a tracking device, she escapes out the side door with the parachute.

The 2010 Dodge Charger SRT-8 is a four door muscle car produced by Dodge which appears in Fast Five, driven by Dominic Toretto and Brian O'Conner.
Four Dodge Charger SRT-8 models appear in Fast Five. The first two SRT-8's that are seen are the four 2011 Police LX Chargers, two of which are specially prepared into vault heist cars, finished in matte black paint (the two suddenly becoming the 2010 Chargers). Together, the two cars provided enough strength to pull the vault loaded with money out of the police station. Whilst being pursued by the entire Brazilian police force under Hernan Reyes' payroll, both Dominic and Brian's Chargers lose their rear windscreens due to heavy gunfire. The cars are driven cleanly and suffer no further damage than bullet wounds until Dominic's Charger is flung by inertia at Herman Reyes' Volkswagen Touran.

"I live my life a quarter mile at a time. Nothing else matters: not the mortgage, not the store, not my team and all their bullshit. For those ten seconds or less, I'm free."

Refresh for another entry

Which is your favourite Fast Film?
Are you looking forward to Fast 9?
Which car from Fast 9 are you excited for?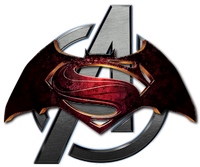 Community content is available under
CC-BY-SA
unless otherwise noted.