Spider-Man: No Way Home Trailer Dropped - The Loop
Play Sound
Mr. Nobody's Base is a base of operations owned and run by Mr. Nobody it was originally located in El Segundo, California by then moved to a new, undisclosed, location in The Fate of the Furious
Biography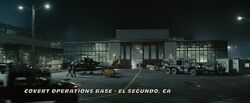 Mr. Nobody brings Dominic Toretto and his team to his warehouse in El Segundo, California where he introduces them to Ramsey and God's Eye. He asks them for their assistance with saving her from a convoy run by Mose Jakande off the books in exchange for their own personal use of God's Eye to find and kill Deckard Shaw as revenge for him presumably killing Han Seoul-Oh in Tokyo. Mr. Nobody also promises them the use of his team to help them. He then offers them a selection of cars for use in the rescue operation including a 1970 Dodge Charger R/T, 2011 Dodge Challenger SRT, 1967 Chevrolet Camaro SS, Jeep Wrangler Unlimited JK, and Subaru Impreza WRX STi.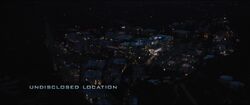 After breaking Hobbs and Shaw out of prison. Mr. Nobody brings Hobbs to his new base of operations located in an undisclosed location where Little Nobody has gathered Letty, Roman, Tej and Ramsey. He introduces them to Cipher as well as the fact that she is manipulating Dom into working for her and requests their help to stop her in exchange for getting Dom back. Mr. Nobody also brings in Shaw to help them as he has been able to track down Dom before. When Roman suggests using God's Eye, it is revealed that Cipher is using a relay that pings spots around the world randomly so Dom can't be tracked. When Tej and Ramsey reverse the relay, it reveals that Dom is at a location which Mr. Nobody finds interesting as that location is his base.
The walls of the room are blown in and the base is infiltrated by Cipher and Dom who concussed the team by using pulse concussion grenades. She steals God's Eye for them and then flees with Dom. The team are later scattered amongst the remains of the building and are able to track down Dom in New York after they learn Cipher's ghost plane will be travelling there.