Wiki Targeted (Entertainment)
Play Sound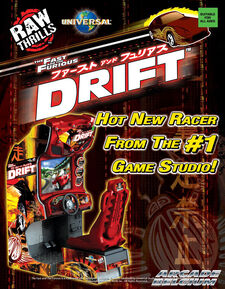 The Fast and the Furious: DRIFT is the second Fast & Furious arcade game, developed and published by Raw Thrills. Drift is very much like its predecessor.
Cars:
Pontiac Solstice|Pontiac Solstice GXP
Ford GT
Nissan 350Z
Dodge Viper SRT10
Gameplay
But it also has seven new courses to race on and some new cars to drive with - as well as a new soundtrack. Like its predecessor, it features customizable add-ons to your car like N2O (nitrous oxide), spoilers (for speed), decals, tires (for traction), and engines (for acceleration), and players use the money they've earned from races. Unlike the first game and its spinoff, it has a new status system; the players can view their car and upgrades. New cars include the Ford GT, 2005 Ford Mustang, Dodge Viper, Dodge Challenger, Saleen S7, Mazda RX-8, Mazda RX-7, Pontiac Solstice, 2009 Chevrolet Camaro and 1967 Ford Mustang. Nissan Skyline GT-R and Nissan 350Z were the only cars kept for the game. All other cars from its predecessorwere taken out.
Like its predecessor, it features the PIN that can save your progress that you made throughout the game by typing a code. Ex-Midway legendary sound designer Jon Hey followed his creation of The Fast and the Furious: Super Bikes sound package with the audio development of this game.
Gallery
Trivia
In the Trailer there were some cars and assets from the predecessor that didn't made it to the final game.