Wiki Targeted (Entertainment)
Play Sound
The Fast and the Furious: Super Bikes is a spin-off from The Fast and the Furious arcade game series, was developed and published by Raw Thrills, and was released in June 21, 2006.
Featured Bikes
Aprilia RSV 1000 R
Name
Ducati Monster
Yamaha YZF-R1
Kawasaki Ninja ZX-10R
Kawasaki Vulcan 800 Drifter
Moto Guzzi MGS-01 Corsa
Yamaha YZF-R6
Ducati PaulSmart1000LE
Kawasaki KX250
Yamaha Road Star Warrior
Yamaha VMAX
Ducati SuperSport
Aprilia SXV
Gameplay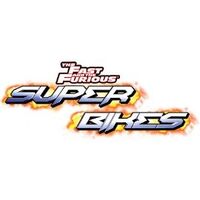 Super Bikes is similar in some ways to The Fast and the Furious 2004 game, but unlike in the first game, players ride on bikes and compete on nine different tracks. Also, unlike the original game, not all stages of the game are set in the United States; some tracks are located in different countries around the world, including China, Switzerland and Monaco.
In the game, players can choose from twelve licensed motorcycles made by leading manufacturers including Moto Guzzi, Kawasaki and Suzuki. Players are able to customize their motorcycles in many ways, by upgrading engines and bike tuning. As in the first game, players can perform various moves, such as helicopter spins and barrel rolls; drifting is also a major element of the game. This is the Torque version of the game.
Ex-Midway legendary sound designer Jon Hey did the audio development of the game.
Gallery