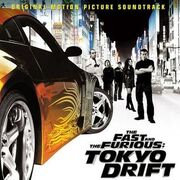 The Original Motion Picture Soundtrack for the film The Fast and the Furious: Tokyo Drift was released with 12 tracks on June 20, 2006. Allmusic rated it three stars out of five. RapReviews rated it two out of ten. Another album, the Original Score, has 30 tracks, most composed by Brian Tyler and one track "Welcome to Tokyo" composed by Tyler and the musician Slash. The album was released on CD by Varèse Sarabande with 64 minutes and 10 seconds worth of music. Tyler partnered with music producers Pharrell and Dr. Dre to produce the soundtrack.
#Soundtrack Listing
Teriyaki Boyz - "Tokyo Drift (Fast & Furious)"
DJ Shadow - "Six Days" (Remix) (featuring Mos Def)
The 5.6.7.8's - "The Barracuda"
Evil Nine - "Restless"
Far East Movement - "Round and Round"
N.E.R.D. - "She Wants to Move" (DFA Remix)
Teriyaki Boyz - "Cho Large" (featuring Pharrell)
Dragon Ash - "Resound' (without intro)
Atari Teenage Riot - "Speed"
Don Omar - "Bandoleros" (featuring Tego Calderon)
Don Omar - "Conteo"
Brian Tyler - "Mustang Nismo" (featuring Slash)    
Songs featured in the film, but not on the soundtrack
"My Life be Like (Ooh Ahh)" by GRITS
Original Score
1. "Touge"  
2. "The Fast and the Furious: Tokyo Drift"  
3. "Saucin'"  
4. "Neela Drifts"  
5. "Preparation"  
6. "N2O"  
7. "Mustang Nismo"  
8. "Underground"  
9. "Hot Fuji"  
10. "This Is My Mexico"  
11. "Welcome to Tokyo" (written by Slash and Brian Tyler)
12. "DK vs. Han"  
13. "Downtown Tokyo Chase"  
14. "Aftermath"  
15. "Empty Garage"  
16. "DK's Revenge"  
17. "Journey Backwards"  
18. "Sumo"  
19. "Shaun's Crazy Idea"  
20. "Dejection"  
21. "Kamata"  
22. "Two Guns"  
23. "I Gotta Do This"  
24. "Megaton"  
25. "Neela Confronts DK"  
26. "Winner ... Gets ... Me"  
27. "War Theory"  
28. "I Don't Need You to Save Me"  
29. "Neela"  
30. "Symphonic Touge"  
Community content is available under
CC-BY-SA
unless otherwise noted.