Wiki Targeted (Entertainment)
Play Sound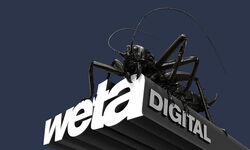 Weta Digital is a digital visual effects company based in Wellington, New Zealand.
History
Weta Digital was founded by Peter Jackson, Richard Taylor, and Jamie Selkirk in 1993 to produce the digital special effects for Heavenly Creatures. In 2007 Weta Digital's Senior Visual Effects Supervisor, Joe Letteri, was also appointed as a Director of the company. Weta Digital has won several Academy Awards and BAFTAs.[1]
Weta Digital is part of a number of Peter Jackson co-owned companies in Wellington which includes Weta Workshop, Weta Productions, Weta Collectibles and Park Road Post Production.
Involvement in Furious 7
Following the death of actor Paul Walker, the New York Daily News reported four actors with similar to Walker's physique had been hired as stand-ins in the absence of the actor. His voice and features would be computer generated.[2][3]
Weta Digital worked on scenes where Paul Walker's face was be to the camera and audience's line of sight. James Wan aided in the process by providing the production unused footage and audio of Paul Walker from previous films from the franchise. Parts of Walker's body had been previously mapped out using digital processes, which aided in the recreation process. Walker's brothers, Cody and Caleb, mimicked their late brother's mannerisms and their faces were mapped over with the recreation of their brother's likeness.[4]
The combination of Weta Digital's work, carefully chosen camera angles, lighting and using Walker's brothers to simulate his appearance were tied together in the final production of the film.[5] Weta Digital's process was compared to the techniques used in Ridley Scott's Gladiator, following the death of Oliver Reed during production of the 2000 released film.[6]
Trivia
The company is named after the New Zealand weta, one of the world's largest insects.
References
Community content is available under
CC-BY-SA
unless otherwise noted.